Medical Spa Website Design
Spa websites, Web Design, Templates and Medical Marketing for Day Spas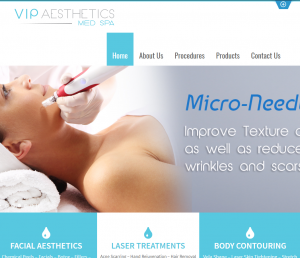 RX Medical Web understands the value of a well-written day spa website and our expert spa website designers can create effective spa websites for any size business that will drive customers and generate sales. Whether you are a doctor, such as a Plastic Surgeon, Dermatologist, or Family Practitioner adding Aesthetics to your practice, or an established Skin Care Spa and Aesthetics Center, our team can create an effective aesthetics and spa website and marketing campaign to help achieve your goals. Probably the most effective marketing strategy currently available to market Aesthetic Physicians is having an impressive Medical Spa website  and spa web design that stands out, coupled with strong internet and social media marketing campaigns. We operate an in-house team of designers, programmers and internet specialists in house who can create effective spa web designs for day spas and medical spas, health spas or a Medspa and we do not outsource any of our services. The quality of your spa website is first rate, we do not use templates and our team works closely with you and your staff to create a med spa website with an attractive, dynamic Med Spa Web Design, Medical Day Spa, Medispa, theme that matches your goals and practice mission.
Spa Website and Internet Marketing
Your Aesthetics website is a reflection of your medical practice online. The image you portray for you spa web design and medical spa websites must be consistent with your practice theme and mission.  In addition to having a spa website that looks professional and creates an impression, our job is to make sure it is visible on the internet.
Our internet marketing strategy for Aesthetic Physicians is very unique, and our staff works to develop a plan with you. We specialize in the best web design services and web designs for spa marketing featuring the most effective web design templates and custom website design features.
After learning your goals and objectives, we design a strategy that utilizes the most current technologies offered on the internet. Search engines like Google continuously change these "algorithms," so our staff is required to stay current with this information.
Spa Website and Internet Marketing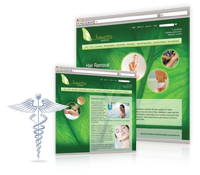 Our web designers work closely with you and your staff to choose a design scheme that will work best for your practice. These are not standard template Spa Website sites and are custom built from scratch.
In addition to a beautiful day spa web design or spa med web site with simple navigation, we make sure all our specialists' websites include the following additional features:
Search engine friendly for maximum internet visibility
Physician staff to help write content
Professional appearance
Website maintenance and support
Phone support with our staff
Bilingual websites
Medical Spa Website Services and Internet Services
Attractive, custom created websites to match your practice theme
Custom business Facebook Microsite development (a must for any medical practice; don't underestimate the power of Facebook, it is larger than Google).
Internet and social media marketing
Email marketing campaigns (newsletters written by our physician staff)
EMR (electronic medical records) full integration
Patient education resources
RX Medical Web has a team of experts day spa website designers ready to create your custom spa website or spa websites so that you can begin to maximize your online potential and drive more customers to your home page.